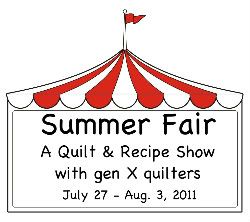 Welcome! When I saw AnneMarie's post about hosting an online Summer Fair, I thought it was a great idea.
I love fairs. When I was a kid, we'd always go to the Markham Fair, just north of Toronto. It was one of those traditional fairs -- livestock competitions, quilt competitions, great food (mmm, fudge and cotton candy), games and tons of neat toys to buy (or win). One of my fondest memories is buying my own Rubik's Cube at the fair. Instead of the stickers, it had plastic tabs so you couldn't cheat. I never solved it the darned thing, but I played with it constantly. We always had a great time at the fair and looked forward to it each year.
10 Years and Still Over the Rainbow
I'll start with my quilt entry. This is my Amish Wedding Ring quilt, which I call 10 Years and Still Over the Rainbow. It's a replacement wedding gift quilt for my husband because the quilt I had originally designed and planned on making for our wedding was just not working.
This quilt is a pattern by Linda Denner in Quick and Easy Quilting (February 1997) magazine. Never before tempted to try a wedding ring quilt (those curves scared me!), I fell in love with the simplicity of this quilt's design and the precision of the star blocks. The star blocks are paper pieced and the rings are all hand pieced. It's machine quilted (walking foot - never again!) with rainbow variegated thread and has a bias black binding. Wow, did I learn a lot while doing this quilt! I'm pretty happy with how it turned out and so is the hubster. I'm not sure I'm completely off the hook for the original though because he really liked the design. Maybe one day...
10 Years and Still Over the Rainbow

The back
The rainbow variegated thread on the back
Detail of the back
Blueberry Crumble Cake
Now for the recipe. I'm one of those folks who figures that if I'm going to go to the effort of making dessert, then it had better have chocolate in it, and lots of it. Let me clarify that I'm only talking about the desserts that I make; I love anything anyone else makes for me! I do have a few exceptions to my chocolate dessert philosophy and my mom's Blueberry Crumble Cake (I think some people call it a buckle or a bumble) is one of them. Since it is blueberry season here, I thought I'd share this recipe with you. It's awesome warm from the oven (and it reheats very well) with whipped cream or ice cream. I hope -- no, I know -- you will like it. Melt in your mouth goodness!

Ingredients:
1. Cream together butter and sugar until fluffy.
2. Blend egg into creamed mixture.
3. In another bowl, add flour, baking powder, and salt.
4. Add flour mixture alternating with milk to creamed mixture, beating after each addition.
5. Gently fold in blueberries (with fork) into batter and pour into a greased and floured 8" x 8" pan.
6. Mix together ingredients for crumb topping and sprinkle over the top of the cake batter.
7. Bake at 350
º
F for 30 minutes. Check top feel with finger. Must sponge back. If it doesn't, bake it a little longer until it does sponge back.
I hope you enjoyed my contribution to the Summer Fair. If you get a chance, go check out the other participants by visiting
GenXquilters
. Thanks for hosting, AnneMarie!
I'll be on vacation for the next few weeks and won't be able to update my blog. Until next time...