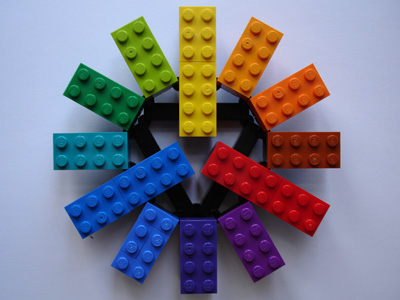 From www.l3go.bugge.com
One of my goals for 2012 is to learn and experiment more with colour. You know those people who have a fabulous colour sense? They seem to pick fabulous and complex colour palettes for their clothes, decor or quilts effortlessly. I would not be one of those people.
My colour choices are much better now than they used to be, but there's a
lot
more I'd like to learn and be able incorporate into my quilts (and decor and clothes, but that's for another day).
I've got a few books and online resources that I'll be using to help learn more about colour theory:
As a fun marker, I took the
Online Colour Challenge
to gauge how well I see colour. My score was 36 on a scale of 0 (Perfect Colour Acuity) to 99 (Low Colour Acuity). Not bad. We'll see if I do any better at the end of this challenge. I'd be curious to see if quilters end up in a certain range.
My challenge is to pick a colour a month to explore. I'm going to make a small piece/wallhanging about 12" by 12" or 14" by 14" using that colour. I'm also going to try to use my scraps to make these pieces. Each piece will be quilted, but not bound. When I'm done them all, I'll decide if I want to keep them as separate pieces for a wall collage or sash them as a quilt-as-you-go quilt. Not too many rules, but hopefully enough to guide the process and still have it be fun. I also might use these challenges to try some new-to-me techniques.
From Wiktionary.org
With Chinese New Year and Valentine's Day coming up and because I'd like a fun colour to start, January's challenge colour is
red
.
A couple of things about red:
It's associated with love, passion, beauty, danger, courage and sacrifice.
According to Wikipedia, "Red catches people's attention, and can be used either in a negative way to indicate danger and emergency, or in a positive way in advertising to gain more viewers, or in nature, as a ripe fruit announces its readiness with its red color. Several studies have indicated that red carries the strongest reaction of all the colors, with the level of reaction decreasing gradually with orange, yellow, and white, respectively."
When I think of red, I think of apples, stop signs, red lights, Chinese New Year, cinnamon hearts, cherries, those red paper roll caps I'd hit with a rock as a kid, Canada Day, my boys' winter jackets, red Smarties, a hot stove, bold, candy apples, cardinals, fast cars, 99 red balloons, Red Rum (never should have watched that movie!), blood, cherry pie and cheeks red from the cold.
How about you? What do you think of? If you have any colour resources that you'd recommend, I'd love to hear them!