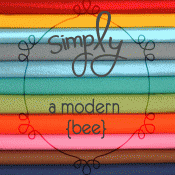 Calling all Canadians, there is a new bee in town and we need more members!
It's a 12-month commitment starting February 1st, 2013 and all skill levels are welcome! Are you up for it?
This is actually a worldwide bee but each region has a group of 12. Currently, Canada only has 5 members. Shipping would be within Canada only (unless there aren't enough members) and you can either send out fabric to your members or stash bust so no one has to go shopping. For more details, visit
Sew at Home Mummy
.
I think it will be lots of fun so come join us!