Happy New Year, all!
All in all, I'm pretty darn pleased with 2012, especially since the world didn't end. ;) I'm ending the year feeling a lot more confident with my sewing and quilting skills, especially my free motion quilting skills. I tried many new techniques and learned a lot from other bloggers and quilters. I joined my first online bee, participated in a few blog hops, and even got to meet a few of you in person!
I had the opportunity to speak at my quilt guild about the online quilt world and modern quilting, learned that My What the FMQAYGQAL? quilt was a finalist in the spring Bloggers Quilt Festival, and was commissioned to make two quilts. Another highlight that I haven't shared until now is that I reached a milestone this year -- 100 quilts made (in 15-ish years). :)
Back in January, I set some
pretty big quilty goals
for 2012. So how did I do?
1) Not just starting quilts, but finishing them!
Since I'm hosting TGIFF! once a month, I'd like to have a quilt finished per month. Achieved! Some of these will hopefully be:

Canadian - HBC Point Blanket Quilt

A quilt to cover our own poor bed! - My Hudson's Bay Point Blanket quilt is done and gracing our bed!
A leader/ender quilt for the guest room -

Yeah, I was dreaming in technicolour.

More charity quilts -

Achieved.

A few things off my bucket list - Achieved. Tulip à la Elaine Quelh, HBC point blanket, Supernova started.
FINISH MY EXISTING WIPs - they are out of control! -

I started 2012 with 22 WIPs. I finished 10 of them -- woo hoo! But then I kept getting start-itis and added a number of projects throughout the year so I finished the year with 18 projects in various stages of completion. Under 20 though so I'll count that as a success!
2) Design:
Growth Chart Tutorial
Design a quilt to share online. - HBC point blanket quilt was shared just in time. :)
Modern Block Monday - Make and share a block from Modern Blocks every Monday. I LOVE, LOVE, LOVE this book! I don't think I'll do all of the blocks in the book but I'd like to make a Modern Block Sampler. -

Unchanged from September - 24 blocks done. I miss doing these blocks though, so 2013 may see a comeback of Modern Block Monday.

Raise my EQ so that I don't turn into a Wild Thing every time I use Electric Quilt. I will start learning EQ from the beginning AGAIN! This is attempt number 3, but I'll post my misadventures here so I don't give up this time. I really don't get what the block (ha ha) is that I have with this program but I will succeed this year. As I figure out this program, I'll make and post some of the designs that I make. - I designed two quilts on EQ this year, as well as my grey Colour My World Challenge. Still turn into a Wild Thing though.
Do a tutorial on the growth chart. - Done! You can check it out here.
Colour My World Challenge Collage
Colour My World Challenge - This one is going to be a fun experiment and challenge! Each month, I will be doing a small project (12" by 12" or 14" by 14") focusing on one colour. Red, blue and purple will probably be easy. White, orange and brown, not so much. The Colour My World Challenge is done and such fun!
Once I figure out EQ, use it to experiment with different colour schemes, especially those outside of my comfort zone. - Achieved, but by using the Stash Play game.
4) Technique:
Achieve a consistent 1/4" seam allowance. Seriously, I've been quilting for um-13 + years and I still can't do this properly. It's why I don't make blocks. This will change. -

Achieved!

Learn and practice more free motion quilting - participating in the QAYGFMQQAL and the 2012 Free Motion Quilting Project should help achieve this goal. - Achieved with What the FMQAYGQAL?, although my participation in the 2012 Free Motion Quilting Project deserves a big raspberry.
Learn and experiment more with new-to-me techniques:
I reviewed and updated these goals in
September
when I joined up with Kelsey for
The 100 Day Hustle with Kelsey Sews
. For my 100 Day Hustle, I pledged that I would:
Catch up on the 2012 Free Motion Quilting Challenge. - Not done!
Try machine-pieced curves. - Done with Colour My World Grey Challenge
Finish five projects from my On hold/UFO mashup list, one of which will be a quilt for the guest room. I finished five from the September WIP list, but only two from the On hold/UFO mashup part.
Keep working with EQ. - As I mentioned above, there was some progress with the Colour My World Grey Challenge.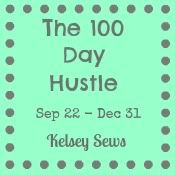 If you've made it through this gargantuan post, huge kudos to you! Now to start thinking about goals for 2013. I'm thinking simpler. ;) Do you have quilty plans for 2013?