Happy Friday, all! First, I must show you this AWESOME video. I wouldn't be surprised if the applications to become Canadian skyrocket in the coming months as a direct result of this video. ;)
The sad/funny thing? I named a bunch of the moves correctly before the names popped up!
***
This small finish was started in the
workshop
I took with Heather Lair this summer. It's torn-strip appliqué and uses mostly the hand-painted fabric I made in her class. This is how it looked at the end of the class:
And this is Torn Landscape finished:
Torn Landscape
I'm pretty happy with it considering that it's a first attempt and was started in a rush. The texture of the raw edges is better in real life and I plan to try this again in a larger piece. It's 4" by 6" and finished with a satin stitch around the edge. I can see using a lot of scraps up with these kind of projects. If you'd like to see more of this style of landscape, check out
Heather Lair Designs
. Her work is gorgeous!
I also finished this little selvage pincushion. It's filled with crushed walnut shells (pet supply store). It's my first selvage project and first pincushion. I liked working with selvages so there will be more to come...
Linking up with
Kristy at Quiet Play
. She finished a stunning paper pieced Iris wallhanging. Seriously awesome!
And since I did get some randomness in today, I'm also linking up with Cindy at Live a Colourful Life for Really Random Thursday...even though it's Friday because this randomness was just too awesome to wait until next week.
And since I'm also feeling felicitous of being Canadian today, I'm going to link up with fellow Canuck Felicity for Friday Felicities.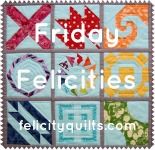 Have a great weekend! Hope you get some dance time in!
P.S. I'll be putting up the Colour My World Orange Challenge linky on Sunday. :)